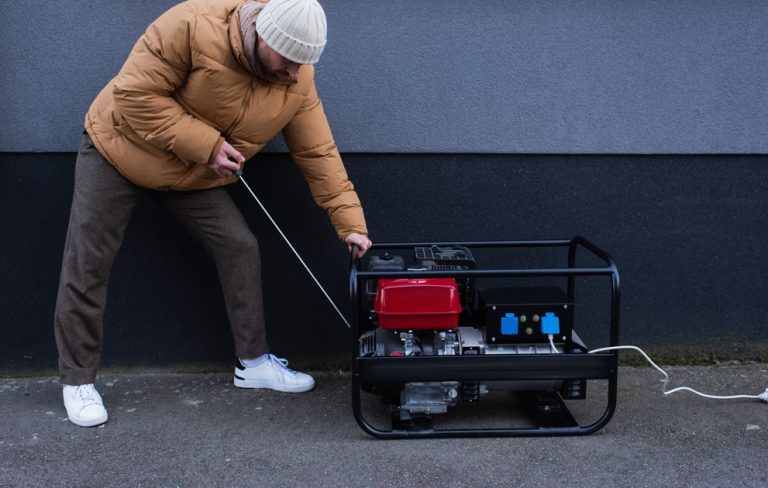 Let's be real; power outages are not fun. And while we can't control the weather, we can certainly prepare for it.
That's why we've put together this in-depth portable generator buying guide for Stanhope, NJ residents.
We'll cover everything you need to know so you can make an informed decision without breaking a sweat—or the bank!
Why a Portable Generator?
Emergency Preparedness:
When Mother Nature decides to throw a curveball, a portable generator can be a lifesaver. It'll keep the lights on, your food from spoiling, and your home warm. Basically, it makes sure you're not heading back to the Stone Age during a blackout.
Outdoor Activities:
But let's not forget the fun stuff! Portable generators are also fantastic for camping trips, tailgating, and other outdoor adventures. A little creature comfort in the wilderness never hurt anyone, right?
Types of Portable Generators
Conventional Generators
Think of these as the OGs of the generator world. They use a motor attached to an alternator to produce AC power. They're often less expensive but can be noisy and less fuel-efficient. Conventional generators are generally more robust and can handle heavy-duty tasks.
Inverter Generators
Here's the slick, new kid on the block. Inverter generators use a different type of alternator to generate AC power.
They're quieter and more fuel-efficient but can be more expensive upfront. These are ideal if you need to power sensitive electronic devices.
Factors to Consider When Buying
Wattage
Okay, this is a biggie. You need to calculate the total wattage of all the gadgets and appliances you plan to power. Never just eyeball it! Underestimating your needs could leave you in the dark—literally.
Fuel Type
Gasoline: Widely available but has a shorter shelf life.
Propane: Cleaner burning and has a longer shelf life.
Diesel: More fuel-efficient but might be overkill for residential needs.
Noise Level
The last thing you want is to be "that neighbor" with the loud generator. Always check the decibel levels before making a purchase, especially if you're in a residential area with noise restrictions.
Portability
Remember, it's called a portable generator for a reason. Features like wheels, handles, and overall weight matter. You shouldn't need a team of strongmen to move it around.
Brand Comparison
In the Stanhope market, you'll find brands like Honda, Generac, and Yamaha offering portable generators with a variety of features. Take your time to read reviews and maybe even ask for recommendations from friends or online community forums.
Safety and Maintenance Tips
Safe Operations: Always remember to operate your generator in a well-ventilated area. Proper grounding is also a must to avoid electrical hazards.
Regular Maintenance: You wouldn't neglect your car, so don't neglect your generator. Regular oil changes and air filter checks will go a long way in extending its lifespan.
Buying vs Renting: If you only need it for a one-off event or emergency, renting might be the way to go. But investing in a quality unit is worth every penny if you see long-term use.
Local Regulations and Permits in Stanhope, NJ
Before you whip out your wallet, check local regulations. Some communities in Stanhope have noise and emission restrictions. Always good to be a law-abiding citizen!
So, whether you're gearing up for the next big storm or planning an epic tailgate party, choosing the right portable generator is crucial. We hope this guide has empowered you to make an educated choice.
B-TEC Electric Company is your go-to for efficient portable generator services. Give us a call at 973-347-7337 for further guidance. Or are you ready to invest? We have a range of choices.